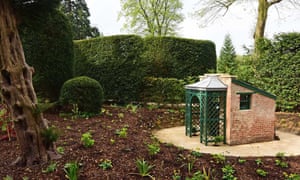 The little brick pavilion housing the earth closet toilet has been returned to its former glory at Brodsworth Hall. Photograph: Anthony Chappel-Ross/English Her/PA
A historic view with a loo has been recreated, with the rescue and restoration of a Victorian outdoor toilet in the gardens of Brodsworth Hall in South Yorkshire. The toilet, described as "a rare surviving example of a gentrified decorate garden privy", is a far rarer survival than the listed mansion itself.
The little brick pavilion housing the earth closet toilet – which had disappeared under a mound of ivy – has been restored by English
Heritage
, complete with its discreet screens of yew hedges and surround of tactfully strongly scented plants, including orange blossom, scented geranium and roses.
The
mansion was built in 1861
, and was opulently plumbed, with nine flushing toilets for the family and staff. The garden toilet was strictly for the family and visitors, not the small army of staff working in the 8 hectares (20 acres) of gardens.
As there was no running water to the building, servants had the daily task of emptying the bucket below a wooden bench and using the "night soil" as fertiliser in the surrounding beds and lawns.
Daniel Hale, its current head gardner, said: "Interesting buildings come in all shapes and sizes. Toilets may not be glamorous, but they can be a fascinating source of social history. This privy sheds a light on the Victorians' love of gardens. Lost for years under ivy, we're delighted to have rescued this lovely loo and share its story with visitors – although we'd ask them not to get too familiar with it."
source: https://www.theguardian.com/culture/2017/may/05/loo-with-view-rare-victorian-outdoor-toilet-restored
by Maev Kennedy
http://www.thisoldtoilet.com